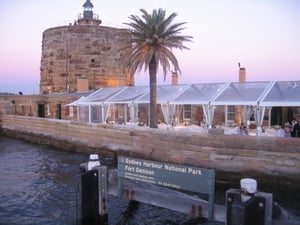 $

180.00 - On Sale
$180- Inclusive of GST
This Australian Cheese & Wine Experience is a short course showcasing the best of Australia's cheese making talents alongside some great Australian wines.
Sydney Harbour's famous Fort Denison changes from garrison to gourmet with our cheese and wine tasting courses within its 150 year old sandstone walls.
It is a fantastic introduction to the local and growing industry.
Courses have a special emphasis on farmhouse cheese and cheese produced on a small scale by farmers who practice sustainable and traditional cheese-making techniques. A selection of West Australian artisan cheeses not otherwise available in NSW, are often specially air-freighted for the classes.
Unbeknown to many Sydney Harbour has a rich history in Australia's cheese industry being the location where cattle from England were off loaded from the First Fleet boats in 1788 onto the sandbank that is today famously known as Bennelong Point. Originally called Cattle Point, the cattle were held there in make shift enclosures in the area now home to the Opera House.
The course is hosted by McIntosh & Bowman Cheesemongers, TE Catering in association with the National Parks and Wildlife Service.
Participants will be transported to Fort Denison by Matilda Ferries.
International Cheese expert and co-creator of 'Ask The Cheesemonger' iPhone app; Claudia Bowman says "The Australian Cheese & Wine Experience on Fort Denison is a perfect way to learn about Australia's growing boutique cheese industry and at the same time bringing farmhouse Australian cheese back to Sydney Harbour, to be indulged in the best Australia has to offer and to reflect on how our local dairy industry has progressed over 220 years."
Once a Gift Voucher or Ticket is purchased from this On-Line Store, we will contact you with more details and to book you into an experience.

For more information on our Cheese Making Experiences, please view the Cheese Making Page of our website or Contact us via the Contact Us page.