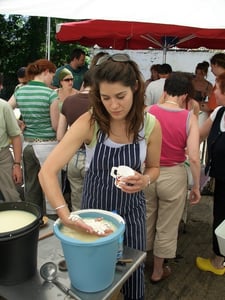 $

249.00 - On Sale
$249 Inclusive of GST
Come and Make Cheese with McIntosh & Bowman Cheesemongers!
We are now offering Gift Vouchers & Tickets to our Cheese Making Workshops for the cheese lovers of our world who want to take their passion for cheese to the next level.
This is a 1 day, 6 hour cheese making workshop, with a full lunch and cheese course, wine, afternoon-tea and snacks. See the Events page of our website for course dates for you to choose from and book into.
This experience will teach 3 different cheese making recipes with cow's milk;
• a table cheese (to be matured at home)
• ricotta and
• fetta
Participants are required to bring an apron and three tupperware containers to take your cheese home in; all other equipment will be provided.
All participants leave with tasting notes and cheese making recipes and the option to purchase home cheesemaking kits.
Cheese making couples have the option to work in groups of two to share the milk and the cheese they produce or alternatively work with individual buckets of milk to produce their own cheeses.
More complex cheese making courses will be showcased in our 2009 program. These will include Blue Cheese, Mozzarella, Washed Rind Cheeses.
Once a Gift Voucher or Ticket is purchased from this On-Line Store, we will contact you with more details and to book you into an experience.