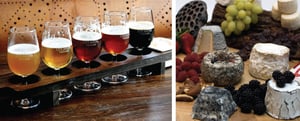 $

99.00 - On Sale
$99 Inclusive of GST
Contrary to a popular belief, beer is an
incredible cheese accompaniment.
There are many similarities between the science of beer
and the science of cheese - and whilst we touch
on technicalities of both - the class won't be
structured with too much information for those
who just want to be introduced to some great
new flavours and combinations.
Cheese expert Claudia McIntosh from
McIntosh & Bowman Cheesemongers teams
up with beer expert Kirrily Waldhorn aka "The Beer Diva" to
present an incredible and indulgent culinary experience.
Kirrily has spent over 10 years working in the beer industry. She is the editor of Australia's only consumer-based beer magazine, Beer & Brewer and is a regular contributor to a number of different publications.
Kirrily is also a beer judge and was recently invited to London to judge the Champion Beer of Britain and speak at The Great British Beer Festival.... so needless to say she knows her beer!
We will be showcasing a variety of beers with different
styles and strengths and matching
them with a selection of truly amazing
farmhouse cheeses; both local and
international.
So whether you are a traditionalist wine buff,
sceptical of this match made in heaven,
or a beer nut who loves great cheese, we
are certain we can cater for even the most
discerning and experienced palate.
When: PLEASE REFER TO THE EVENT PAGE OF OUR WEBSITE
Where: The Australian Hotel, 100 Cumberland St
The Rocks